HP DesignJet Z3200 44-in PostScript Photo Printer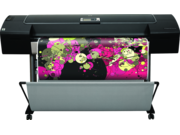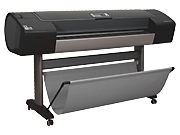 $6,895.00*
Recommended by 100% of reviewers
The best wide format ever!

02/01/2013, posted by

I purchased this printer to replace an old Designjet that I have had for almost ten years. This new printer puts out EXTREMELY high quality prints. Photographs look great, the colors are accurate and the speed is reasonable.

A strong, competent printer.

09/24/2011, posted by Photomagica

I'm a fine artist who prints my own work and the work of other artists for display in galleries and museums. I also teach digital printing. I purchased the z3200 44" printer as an upgrade from the z3100 24". Both have been excellent machines. I've used the z3200 on a large variety of photo, fine art and canvas materials. The in-printer profiling is a major innovation and means that I have exactly the right profile for my particular batch of paper and ink. It means I can use any paper I want whether on-line profiles are available or not. I like the gloss enhancer and feel it is the optimum solution for generating a uniform glossy finish. What HP says about being able to print a true neutral b&w image from an RGB file is indeed true and the results are superb. This is icing on the cake in addition to the built in B&W mode. The depth of the blacks on matte papers and canvas is a revelation. Overall the clarity and color strength of the images from the z33200 is top notch. As a visual artist, I appreciate that HP's pigments continue the lead the pack in terms of archival qualities. Compared to the some of the competition, I love the straight through paper path. This means I can leave paper sitting in the printer and it won't have a kink in it when it comes out. Also there is no ink wastage in switching from photo-black to matte-black ink. This is automatic - I just load the paper, select the right paper type on the front panel and go. I run this printer as an ethernet device and it is some distance from the computer I use for printing. This isn't a problem. The z3200 is a stable, professional machine and doesn't need baby-sitting. I only need to go to it to change paper rolls or ink cartridges. Improvements? I can only think of a couple of very minor things that I'd change. I'd appreciate it if the automatic cutter cut canvas and if I could supply a roll length and roll number to the printer driver and have it keep track of how much is left on that roll. In summary this is a printer that doesn't disappoint in any regard. I don't feel z3200 limits me in any way. It truly gives wings to my work and my biggest challenge is creating files of high enough quality to fully take advantage of its strengths.

No comparison

06/07/2011, posted by Neobrit

I was part of a team to decide how to replace our aging/finicky Epson 7600. Of course, without thinking, the first choice was an Epson 7900. Although, at some point early in the decision making process we were reminded of Epson's competitors -- HP and Canon. For several reasons we chose to examine HP over Canon (a major one being experience in the printer manufacturing business). It was a tough decision between Epson and HP, but what tipped the scales in favor of the HP was it's economical ease of maintenance and the built-in color calibration and profiling software, not to mention other niceties such as it's cost per print calculation software. Loading roll paper can be awkward (especially if the printer is backed up against a wall), but the ease with which we can now almost instantly generate a screen accurate print outweighs the small detractions.

My best prints ever

08/06/2010, posted by Safariguy

I've owned several HP and competitor pigment ink printers over the years and travel worldwide on photo shoots. The HP Z3200 produces stunning prints on archival paper that I classify as "my best prints ever". My family, friends and clients praise the sharpness and colors on the prints I make for them.

Very, Very Happy!

06/22/2010, posted by renopic

I would rate my tech and photography skills as amateur - plus. This was a significant purchase for me and I spent some time researching and comparing. The printer, all the features and software that comes with it is incredible. It truly lives up to any of the claims. I've had my HPZ3200-44" for about a year, it has been a very good year! My architectural work, banners and photography prints have just blown people away. The ability to create profiles for various different papers such as canvas, water colour paper and get results that are spot on are amazing. Keep up the good work HP!
This 12-ink HP Designjet, with new HP 73 Chromatic Red ink, delivers long-lasting gallery-quality prints in black-and-white and colour. HP DreamColor Technologies with embedded spectrophotometer[1] enable easy calibration and profiling.
Wide color gamut and outstanding black-and-white
12 Original HP Photo Inks deliver gallery-quality black-and-white and color prints lasting up to 200 years[2].
Create exceptional black-and-white prints—an HP Quad-black ink set delivers smooth transitions, neutral grays.
Get superior gloss uniformity and minimize bronzing on most glossy photo papers with HP Gloss Enhancer[3].
Achieve an expanded color gamut with 96% PANTONE® coverage[4] enabled by HP chromatic red ink.
Easy color calibration and profiling
Generate custom ICC profiles and achieve color accuracy, consistency with the embedded spectrophotometer[5].
See consistent print-to-print color regardless of fluctuating environmental conditions with HP technologies.
Simplify your workflow— easily access, create, and share paper presets using the enhanced HP Color Center.
Get color reliability with HP Professional PANTONE® color emulation and Adobe Postscript®/PDF support.
Low-maintenance and high ink efficiency[6]
Optimize performance, ink usage—automatic servicing routines help prevent nozzle clogging, reduce media waste.
Save time, money—embedded TIFF, JPEG, and Adobe PS3/PDF RIP enable direct job submission, queuing, nesting.
Streamline production with an HP Embedded Web Server and print previews, which help eliminate trial and error.
Stay up-to-date—HP Printer Utility software provides printer status, desktop alerts, and automatic updates.
[1] The 12-ink HP DesignJet Z3200 Photo Printer is the most advanced printer compared with other HP Z-series printers.
[2] Display permanence rating for interior displays/away from direct sunlight, under glass by HP Image Permanence Lab and/or by Wilhelm Imaging Research, Inc. on a range of HP media. For more information, see http://www.hplfmedia.com/hp/printpermanence.
[3] Bronzing is minimized as an image-quality issue when HP Gloss Enhancer is used. HP Gloss Enhancer can be used on photo paper, with the exception of matte-finish papers.
[4] 96% coverage of PANTONE MATCHING SYSTEM® and PANTONE® GOE systems, based on HP internal testing (PANTONE® approval pending).
[5] Embedded in this HP DesignJet Printer is an i1 spectrophotometer from X-Rite. Close collaboration between HP and X-Rite ensures a reliable solution that's been thoroughly tested to meet customer demands for ease, quality, and dependability.
[6] Based on internal HP testing, the HP DesignJet Z3200 Photo Printer series utilizes at least 30% less ink during routine maintenance operations versus select printers from other vendors.
Model size: 1118 mm
Model size: 44 in
Functions: Print
Print time color image ISO N5 (normal, D glossy paper): 7.2 min/page
Print time color image ISO N5 (draft, D coated paper): 2 min/page
Print time color image ISO N5 (normal, D coated paper): 3.8 min/page
Memory: 256 MB
Internal Storage: Standard, 80 GB
Number of print cartridges: 12 (blue, green, magenta, red, yellow, gray, photo black, matte black, light cyan, light gray, light magenta, gloss enhancer)
Ink types: Pigment-based
Non-printable area (cut-sheet): 5 x 17 x 5 x 5 mm
Guaranteed minimum line width: 0.056 mm (ISO/IEC 13660:2001(E))
Line accuracy: ±0.2%
Color accuracy: Median < 1.6 dE2000, 95% of colors < 2.8 dE2000[2]
Color Stability: < 1 dE2000 in less than 5 minutes[3]
Print repeatability: Average < 0.5 dE2000, 95% of colors < 1.4 dE2000[3]
Maximum optical density (black): 4 L* min/2.5 D[4]
Finished output handling: Sheet feed; roll feed; media bin; automatic cutter (cuts all media except canvas)
Media types: Photographic, proofing, canvas and fine art printing material, self-adhesive, banner and sign, bond and coated, film, backlit
Media weights, recommended: 500 g/m²
Media sizes standard (metric rolls): 210 to 1118-mm wide sheets; 279 to 1118-mm rolls
Roll maximum output: 91.4 m
Roll external diameter: 135 mm
Media thickness: Up to 31.5 mil
HP ePrint capability: No
Connectivity, standard: Gigabit Ethernet (1000Base-T); Hi-Speed USB 2.0 certified; EIO Jetdirect accessory slot
Print languages: Adobe PostScript 3, Adobe PDF 1.6, TIFF, JPEG, HP PCL 3 GUI
Operating humidity range: 20 to 80% RH
Warranty: One-year warranty with on-site, next business-day service
What's in the box: HP DesignJet Z3200 Photo Printer; spindle; printheads; introductory ink cartridges; printer stand; rear tray; 3-in core adapter; quick reference guide; setup poster; USB cable; power cord; HP Start-up kit including printer software
Software included: Printer drivers, HP Printer Utility including HP Color Center, HP DesignJet Click