HP Z230 Small Form Factor Workstation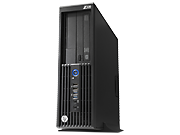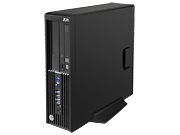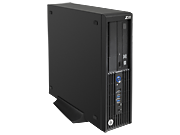 Affordable performance and flexibility, re-defined. Create a totally immersive work environment for those who demand reliability and performance on a budget. Designed for heavy 24x7x365 workloads, the HP Z230 delivers next-generation processor and graphics technologies in a redesigned, surprisingly capable small form factor.
Rock solid reliability, affordably priced
Designed for heavy 24x7x365 workloads. The affordable HP Z230 Small Form Factor Workstation handles the demanding workloads of business applications.
Gain peace of mind from our extreme test and validation processes with workstations designed for always-on environments.
Control your environmental impact better than ever[1] while lowering your total cost of ownership with a 92% efficient power supply and enhanced system reliability.
Work smarter with your software tools. This HP workstation has earned a wide range of ISV certifications to deliver better, smarter performance.
The workstation that fits your workspace
Engineered to impress. The redesigned HP Z230 Small Form Factor Workstation provides the capability and flexibility you demand in a 61% smaller form factor than the tower.
Maintain impressive performance, greater storage capacity, more input/output ports and greater flexibility while retaining the same small form factor size.
Save time with easy data transfers. Accommodate more storage devices with four total drive bays, including a 2.5-inch HD bay for high-performance solid state drives.
Boost your storage performance with RAID, solid state drives, or get the best of both worlds by combining large hard drives with an optional solid state drive as a cache device.[2]
Optimize this workstation for peak performance. HP Performance Advisor helps you easily configure your system with the best settings designed for specific applications.[3]
Totally immersive. Perfectly productive.
Power to spare—and share. The latest Intel® Xeon® processors[4] and rich graphics keep up with your work. Plug in and work on up to six displays.[5,6]
Enjoy the latest in performance and energy efficiency from Intel's next generation processor architecture.
Keep more work front-and-center with support for up to six monitors. Choose between cost-effective integrated graphics and powerful 2D or 3D discrete graphics choices.[5,6]
With HP RGS you can take your graphics intensive workstation applications wherever you go. Collaborate with colleagues around the office or around the world, in real time.
Processor family: Intel® Xeon® E3 processor; Intel® Core™ i7 processor; Intel® Core™ i5 processor; Intel® Core™ i3 processor; Intel® Pentium® Dual-Core processor
Chipset: Intel® PCH C226
Environmental: Low halogen
Form factor: Small Form Factor
Memory slots: 4 DIMM
Internal drive bays: One 3.5"; One 2.5"; One shared 3.5" (shared with external 3.5" bay)
External drive bays: One 5.25"; One shared 3.5" (shared with internal 3.5" bay)
Storage controller: Integrated SATA (5 ports 6 Gb/s) with RAID 0, 1 supported. Requires identical hard drives (speeds, capacity, interface).
Audio: Integrated High Definition Realtek ALC221 Audio; HP Thin USB Powered Speakers (optional)
Energy efficiency: ENERGY STAR® certified and EPEAT® registered configurations available
Power: 240W 92% efficient, wide-ranging, Active Power Factor Correction
Software: HP Performance Advisor; HP Client Security; HP Remote Graphics Software (RGS) 6.0; HP ProtectTools Security (available as configurable option); PDF Complete Corporate Edition; CyberLink PowerDVD/Power2Go; HP PC Hardware Diagnostics UEFI; Buy Office
Keyboard: HP 2.4 GHz Wireless Keyboard & Mouse; HP USB CCID SmartCard Keyboard; HP USB Keyboard; HP PS/2 Keyboard
Security management: HP Solenoid Lock and Hood (SFF) Sensor (optional); HP Business PC Security Lock kit (optional); HP UltraSlim Cable Lock Kit (optional)
Warranty: 3-year (3-3-3) limited warranty and service offering includes 3 years of parts, labor and on-site repair. Terms and conditions vary by country. Certain restrictions and exclusions apply.