HP ElitePad 900 G1 Tablet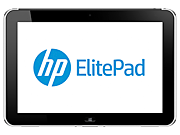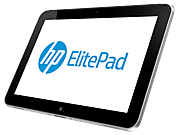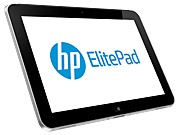 SRP Only 

Starting from

€ 521

Exc. VAT
Starting from

€ 641  Inc. VAT
Recommended by 72% of reviewers
HP Inkjet

11/21/2013, posted by GH

Greatlittle tablet, fast efficient and great battery life. Couldn't recommend it highly enough. Great on Price as well

Product could be better designed

10/29/2013, posted by Mizbol

At first the product seemed great. Very easy to navigate. But after - months it had problems with the starting button, so that it needed for me to find support online. Now the email account has frozen, the diary is refusing to show latest input, and the photo area, the pictures have formed a pastiche; The camera does not appear to take automatic pictures; and there does not appear to be a recovery drive for me to recover information, if i could get it repaired; I cannot see that I would recommend it with so much going wrong in such little time.

Not too bad

09/17/2013, posted by LostScot

We have recently bought 10 of these. Great wee tablets giving average performance and grate flexibility with software and app install, also the docking station makes it easy to use as a normal computer The down sides that we have had, is that they sometimes just crash locking on a blank screen. We have also had to return one for repair, estimated return time was 6 working days, where all of our other HP kit is fixed on site or locally, same or next day.

How do you back it up?

08/05/2013, posted by Martinsh

We bought 6 units for field use, with a view to getting another 10. Unfortunately it seems impossible to create a full disaster recovery image in case of a hard drive failure. Having tried using the HP software, Windows 8 software and third party solutions we have found no answer. HP Support suggested using the Media Creation tool but it doesn't appear to be installed.

Can see why I-Pad is leader!

07/16/2013, posted by M80KMB

Purchased 64Gb unit with high hopes as a package of docking station, 22" monitor screen and wireless full size keyboard and mouse. Idea was to supersede old and slow laptop and add benefits of mobility when away from office PC. Tablet feels good, looks good. Docking station easy to use and gives laptop functionality by having 4 USB ports (including a USB 3) screen connection port, and stands tablet at right angle for using as a table top computer. So far so good. Facility to add storage with Micro USB, brilliant! Setting up simple and easy. So far even better! Really on with this now. Then issues occurred. rear facing camera worked couple of times then "disappeared" and was just left with low resolution web/front face camera. Checked with system tools and kept getting Code 10 (Drivers). Checked drivers, no updates required, tried e-installation but still no joy. Then whole thing locked. Spent entire weekend resetting unit as it just went from bad to worse as it would reset, then not start up, so reset again and it would just hang. No chance camera would work at all. Lost few files I had loaded obviously, but fortunately as so new not really much on it. Had to keep reloading my office suite as inevitably every reset wiped them. Tried system restore, in fact every option. Big issue was there was no recovery or driver discs came with unit. Eventually I have got unit back to working OK minus camera facility. Had to reload all my apps and hunt down files I want again. Eventually got onto HP Tech support (week-days only!) and they agreed camera driver discs not available on line and will need to be sent to me. HP web site I fine hard to get at where i want to go and there is seemingly very little web based support/downloads for this tablet. Finally I purchased a HP protective case. Very poor functionality indeed. Will not go an docking station whilst in case , pain to constantly have to take it out. Front face Camera Lens (when working!) is obscured by lid. It takes intricate finger manipulation to keep it out of the way whilst try to take picture. Flap to hold unit upright or at an angel is so flimsy it either falls over or back flat. Power cord connector is pushed to an angle if you have tablet at the lower angle to view on desk, or if you stand upright the connector goes to the top, pulls the whole thing over if not careful, and sleep button is underneath unit. Conclusion: A nice looking tablet that disappoints in its routine function and usage and has soured my view of the unit.
The true tablet for business. Go beyond everyday business with the HP ElitePad, our premium thin and light Windows 8 tablet[1]. Its elegant design and touch experience put productivity at your fingertips. Expand your potential by choosing from a complete suite of thoughtfully designed accessories like a full keyboard, docking station, and an HP ElitePad Expansion Jacket that extends battery life. Easy to deploy. Effortless to manage. Simple to secure.
Transform your business with a tablet designed for business.
Slide the HP ElitePad into the HP ElitePad Expansion Jacket with the HP ElitePad Jacket Battery to extend battery life up to 20 hours and work without worrying about recharging.
Windows 8 and x86 compatibility for legacy apps arm you with the tools you need – and the confidence of a familiar PC experience. All driven by the latest Intel® processors.
Dock at the office and the HP ElitePad becomes your desktop PC. Add a full keyboard to boost your productivity or an additional screen for multitasking.
Invest in your business, not batteries. Since the HP Long Life Battery offers up to a three-year life span, you can focus on the task at hand without the hassle of replacing your battery.
Log into Windows wirelessly with NFC technology.
Sleek. Elegant. Thoughtfully designed.
Thanks to durable materials like Corning® Gorilla® Glass 2 and machined aluminum, this tablet only feels lightweight. It's built to last and designed to look great and work dependably everywhere from the boardroom to the warehouse.
It's designed to meet military standards 810G testing for vibration, high and low temperature, temperature shock, dust, altitude, drop, shock and humidity.
Contoured edges, an anti-smudge screen, aluminum buttons make the HP ElitePad look and feel as good as it functions.
With a 25,6 cm (10.1") diagonal, 16:10 display, you maximize your viewing space on the move. Spend less time scrolling. More time doing. And, thanks to support for touch, pen, or voice-based input, you can work the way that suits you best.
Get a 1080p camera in front for video calls. Shoot true-to-life photos and videos with an 8MP camera in back and a built-in flash.
Deploy, manage, and secure like nobody's business.
A familiar set up experience, plus available HP Custom Integration Services, make the HP ElitePad simple to deploy in existing IT environments. HP Global Series and Services ensure consistent support for business with international operations.
You're protected with HP Client Security. HP BIOS Protection and Microsoft Defender help keep you up and running with enhanced defense against virus attacks and other threats.
Manage a fleet easily with Active Directory, domain join, and PXE boot support, along with HP Client Management Solutions. It's one less thing to worry about for IT.
Keep sensitive data and devices in-house—and save both time and money. With optional do-it-yourself maintenance tools, updates are easy. Plus, protect your investment with an optional three-year limited warranty, so you know you made a wise choice.
Flexible customization options.
It's an equation for success. Work on your terms with a tablet that fits your business. A complete suite of accessories gives you the freedom to customize your device your way.
Whether it's sales, design, education or healthcare, you'll benefit from an assortment of software and hardware options that have been thoroughly tested for compatibility.
[1] This system is Windows 8 certified and supports the new Windows UI. The integrated display resolution is below the threshold for Snap, a Windows UI feature that allows two Windows Store apps to be viewed simultaneously. This feature may be enabled by attaching an external 1366 x 768 or higher resolution display.
Processor technology: Intel Hyper-Threading Technology is designed to improve performance of multi-threaded software products and requires a computer system with a processor supporting HT and an HT-enabled chipset, BIOS and OS. Please contact your software provider to determine compatibility. Not all customers or software applications will benefit from the use of HT. See http://www.intel.com/info/hyperthreading for more information.
Audio: SRS Audio; Integrated stereo speakers; Integrated microphone (dual-microphone array) (noise cancelling and beam forming)
Camera: Integrated 1080p with LED (front-facing); 8MP (rear facing)
Keyboard: HP Slim Bluetooth Keyboard (select models)
Battery type: 2-cell (25 WHr) polymer HP Long Life
Security management: HP Client Security: Security Manager; Credential Manager; Password Manager; Device Access Manager with Just In Time Authentication; SpareKey; Drive Encryption; Microsoft Defender; Intel Platform Trust Technology; BIOS Protection; BIOS Absolute Persistence; Preboot Security; Near Field Communication with Ssecure Element
Warranty: 1-year limited warranty (upgrades available, sold separately), 1-year warranty on primary battery