HP DesignJet Z3200 44-in PostScript Photo Printer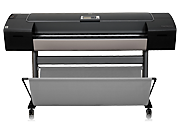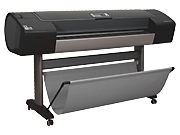 Recommended by 100% of Reviewers
Fantastic printer!

09/28/2009, posted by TGS

We have been using an HP Z3200 for our safety poster business for about 4 months and have been extremely impressed with the unit! It produces absolutely stunning images on enhanced photo matte paper. It is quite easy to change paper rolls and the onboard calibration is a fantastic feature. From a print economy standpoint the Z3200 has exceeded our expectations. While the ink use varies quite a bit based on the image being produced, the overall average cost for a 17" x 22" print is over 20% less than we originally estimated it would be. We have found that we can get outstanding results using the 'normal' setting with 'max detail', and some of our posters even print beautifully on the 'fast' setting. Other than a small design glitch that impacts running 17" rolls (our local HP dealer did a great job coming up with a fix) the printer has been excellent. We have no hesitation recommending this printer to anyone who wants stunning prints at affordable cost.
The 12-ink HP DSJ Z3200, with new HP 73 Chromatic Red ink, delivers long-lasting gallery-quality prints in black-and-white & color. It enables easy calibration & profiling with its embedded spectrophotometer & also delivers greater ink efficiency.
It redefines the world of colour to produce the most brilliant reds, more stunning black-and whites, & a wider colour range than ever before with the 12-ink pigment system which include the new HP 73 Chromatic Red and Quad-black Ink set.
Create beautiful black-and-white prints with smooth transitions, deep blacks, and neutral grays with the HP Quad-black ink set.
Get superior gloss uniformity and minimize bronzing on most glossy photo papers with HP Gloss Enhancer[3].
Enjoy an expanded color gamut which achieves 95% PANTONE® coverage[8] enabled by chromatic red ink.
Over 50 HP papers, including photo, fine art, coated, and display-graphic printing materials.
Achieve consistent & precise colour results with HP Dreamcolor Technologies & embedded Spectrophotometer. Simplify profiling & calibration tasks which you can create, share, & export paper presets with great ease.
Simplify workflows: easily access, create, and share paper presets[7] using the enhanced HP Color Center.
Create a customized PANTONE® simulation swatchbook[5] with HP Professional PANTONE® Emulation.[4]
Enables productive operation and great ink efficiency with automatic service routines and Optical Drop Detector.
Save time and money: embedded TIFF, JPEG, and Adobe PS3/PDF RIP enables direct job submission, queueing, and nesting[5].
Optimize performance and get great ink efficiency[6] with automatic servicing routines. An Optical Drop Detector (ODD) prevents nozzle clogging, printing errors, and media waste.
Efficiency-enhancing features include an HP Embedded Web Server and print previews which mean no trial and error.
[3]Bronzing is minimized as an image-quality issue when HP gloss enhancer is used. HP gloss enhancer can be used on photo paper, with the exception of matte-finish papers.
[4]HP Professional PANTONE® Emulation is approved by PANTONE®. The PANTONE® MATCHING SYSTEM and PANTONE® Goe license for the HP Designjet Z3200 Photo Printer is pending. Learn more at hp.com/go/Z3200/PANTONE.
[5]HP Professional PANTONE® Emulation, remote management, queue management, nesting, job submission and storage capabilities, and support for 16-bit TIFF and JPEG files are standard on HP Designjet Z3200ps Photo printers only.
[6]Based on internal HP testing, the HP Designjet Z3200 PostScript Photo Printer series utilizes at least 30% less ink during routine maintenance operations versus select printers from other vendors.
[7]Visit hp.com/go/Z3200/paperpresets to find paper presets for HP and other commercially available media.
[8]95% coverage of PANTONE® MATCHING SYSTEM and PANTONE® Goe System, based on HP internal testing (PANTONE® approval pending). Please visit hp.com/go/Z3200/PANTONE for final results.
[9]An FCC Class A emissions compliant device meets the less stringent (higher) levels of emissions allowed by the FCC for a product operation in a commercial environment. An FCC class A device cannot be marketed for use in a residential environment and an FCC class A device should not be purchased for use in a residential environment due to the increased risk of interference to radio communications.
Model size: 1118 mm
Functions: Print
Print time color image ISO N5 (normal, D glossy paper): 7.2 min/page
Print time color image ISO N5 (draft, D coated paper): 2 min/page
Print time color image ISO N5 (normal, D coated paper): 3.8 min/page
Memory, standard: 256 MB
Hard disk: Standard, 80 GB
Number of print cartridges: 12 (blue, green, magenta, red, yellow, gray, photo black, matte black, light cyan, light gray, light magenta, gloss enhancer)
Ink types: Pigment-based
Non-printable area (cut-sheet): 5 x 17 x 5 x 5 mm
Guaranteed minimum line width: 0.056 mm (ISO/IEC 13660:2001(E))
Line accuracy: +/- 0.2%
Color accuracy: Median < 1.6 dE2000, 95% of colors < 2.8 dE2000
Color stability: < 1 dE2000 in less than 5 minutes
Print repeatability: Average < 0.5 dE2000, 95% of colors < 1.4 dE2000
Maximum optical density (black): 4 L* min/2.5 D (with HP Premium Instant Dry Photo Gloss media with Original HP inks)
Finished output handling: Sheet feed; roll feed; media bin; automatic cutter (cuts all media except canvas)
Media types: Photographic, proofing, canvas and fine art printing material, self-adhesive, banner and sign, bond and coated, film, backlit
Media weights, recommended: 500 g/m²
Media sizes standard (metric rolls): 210 to 1118-mm wide sheets; 279 to 1118-mm rolls
Roll maximum output: 91.4 m
Roll external diameter: 135 mm
Media thickness: Up to 31.5 mil
HP ePrint capability: No
Connectivity, standard: Gigabit Ethernet (1000Base-T); Hi-Speed USB 2.0 certified; EIO Jetdirect accessory slot
Print languages: Adobe PostScript 3, Adobe PDF 1.6, TIFF, JPEG, HP PCL 3 GUI
Compatible operating systems: Microsoft® Windows® 7 Ultimate/Professional/Home Premium, Windows Vista® Ultimate/Business/Home Premium, Windows® XP (32-bit, 64-bit) Professional/Home, Windows® Server 2008 (32-bit, 64-bit), Windows® Server 2008 R2, Windows® Server 2003 (32-bit, 64-bit); Mac OS X v 10.4, v 10.5, v 10.6, v 10.7; Citrix XenApp; Citrix XenServer
Operating temperature range: 5 to 40° C
Operating humidity range: 20 to 80% RH
Minimum dimensions (W x D x H): 1770 x 690 x 1047 mm
Weight: 86 kg
What's in the box: HP Designjet Z3200 Photo Printer; spindle; printheads; introductory ink cartridges; Original HP media roll; rear tray; 3-in core adapter; quick reference guide; setup poster; USB cable; power cord; HP Start-up kit including printer software
Software included: Printer drivers, HP Printer Utility including HP Color Center