HP Designjet Z2100 24-in Photo Printer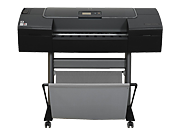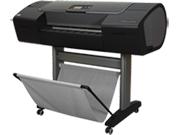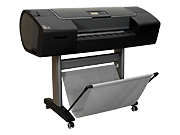 The HP Designjet Z2100 Photo Printer supports paper thickness between 0.1 and 0.8 mm, with cut sheet and roll feed options. Impressive results will be the norm with this large-format HP Designjet that can print up to 44 inches wide.
Express your creativity.
Consistent colour that produces results
Rich, dark blacks on matte and glossy papers—no need to swap cartridges.
Choose from a variety of HP or other papers such as Hahnemuhle papers.
Print with or without borders.
Color and black-and-white prints resist fading for over 200 years[1] on a range of HP papers and HP Hahnemuhle papers.
Achieve consistent, accurate colour with the first-ever embedded spectrophotometer[1].
Reliable, long-lasting prints that inspire confidence
Complete coverage of SWOP, ISO, GRACOL, 3DAP, EUROSCALE, TOYO, and FOGRA gamuts for color accuracy.
Expect consistent color from print to print regardless of fluctuating environmental conditions.
Solve your questions on application color settings with the HP Printing Knowledge Center.
Supported by industry leaders, including EFI, X-Rite, GMG, ColorByte, Adobe, Creo, and Apple.
Print with greater confidence.
Amazing results for your personal creative canvas
HP Color Center tool effortlessly guides you through color management and printing.
Save time with HP Printer Utility software—printer status, desktop alerts, and automatic updates.
Expect always-on quality with convenient, economical automatic servicing routines.
Optical Drop Detector (ODD) provides fast, economical, and convenient testing of each nozzle.
[1] With i1 colour technology
Model size: 60.96 cm
Model size: 24 in
Print time color image ISO N5 (normal, D glossy paper): 7.9 min/page
Print time color image ISO N5 (draft, D coated paper): 2 min/page
Print time color image ISO N5 (normal, D coated paper): 4.2 min/page
Memory, standard: 128 MB
Hard disk: Standard, 80 GB
Number of print cartridges: 8 (cyan, magenta, yellow, light cyan, light gray, light magenta, matte black, photo black)
Ink types: Pigment-based
Non-printable area (cut-sheet): 5 x 17 x 5 x 5 mm
Guaranteed minimum line width: 0.051 mm (ISO/IEC 13660:2001(E))
Line accuracy: +/- 0.2%
Color accuracy: Median < 1.6 dE2000, 95% of colors < 2.8 dE2000
Color stability: < 1 dE2000 in less than 5 minutes
Print repeatability: Average < 0.5 dE2000, 95% of colors < 1.4 dE2000
Maximum optical density (black): 4 L* min/2.5 D (with HP Premium Instant Dry Photo Gloss media with Original HP inks)
Finished output handling: Sheet feed; roll feed; media bin; automatic cutter (cuts all media except canvas)
Media types: Photographic, proofing, fine art printing material, self-adhesive, banner and sign, bond and coated, film, backlit, fabric/textile
Media weights, recommended: 500 g/m²
Media sizes standard (metric rolls): A4 to A1-size sheets, 279 to 610 mm rolls
Roll maximum output: 91.4 m
Roll external diameter: 135 mm
Media thickness: Up to 31.5 mil
Connectivity, standard: Fast Ethernet (100Base-T); Hi-Speed USB 2.0 certified; EIO Jetdirect accessory slot
Print languages: HP PCL 3 GUI
Compatible operating systems: Microsoft® Windows® 7 Ultimate/Professional/Home Premium, Windows Vista® Ultimate/Business/Home Premium, Windows® XP (32-bit, 64-bit) Professional/Home, Windows® Server 2008 (32-bit, 64-bit), Windows® Server 2008 R2, Windows® Server 2003 (32-bit, 64-bit); Mac OS X v 10.4, v 10.5, v 10.6, v 10.7; Citrix XenApp; Citrix XenServer
Operating temperature range: 5 to 40ºC
Operating humidity range: 20 to 80% RH
Minimum dimensions (W x D x H): 1262 x 690 x 1047 mm
Weight: 65 kg
Warranty: 1 Year Limited Warranty (Next Business Day On-Site)
What's in the box: HP Designjet Z2100 Photo Printer; spindle; printheads; introductory ink cartridges; Original HP media roll; rear tray; 3-in core adapter; quick reference guide; setup poster; USB cable; power cord; HP Start-up kit including printer software and training
Software included: Printer drivers, HP Printer Utility including HP Color Center