HP Z420 Workstation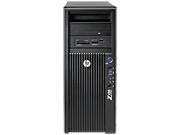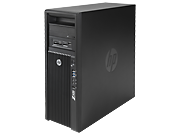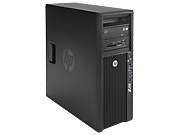 Performance you want. Value you need. Maintain professional expandability in an accessible, tool-free mini-tower form factor—all at a great price. With support for next-generation Intel® Xeon® processor families, the latest graphics technology, and increased I/O expandability, the HP Z420 has the power you need to get the job done.
Intelligent, business-forward design.
Quickly and easily swap out parts or make upgrades on your own. The HP Z420 Workstation features a smart chassis design built for tool-less access to the inside and easy configurability.
With optional liquid cooling, your workstation is designed for whisper-quiet performance and a smooth, daily work flow.[1]
Maximum performance.
Bring power and performance to the next level with the all new E5-1680 v2 8-core processor and Intel® C602 chipset.[2]
Take advantage of a 600 W 90% efficient power supply ideal for high-end graphics and GPU compute solutions.
Connect in a flash with 4X USB 3.0 bandwidth on an optional high-performance ThunderboltTM 2.0 port[5] on the HP Z420.
Uncompromised graphics, increased productivity.
Built to support next generation PCIe Gen3 graphics, the HP Z420 currently offers a breadth of AMD and NVIDIA professional graphics card options from Pro 2D to high-end 3D, up to the NVIDIA Quadro 6000.[2]
Access high-performance applications, including 2D and 3D video, on-site or from a remote location with HP Remote Graphics software[6].
Increase productivity and spread out with the freedom of seeing and doing more all at once with support for multiple displays at peak HD resolutions.[7]
Customized to work for you.
Build the HP Z420 Workstation the way you want with multiple SATA and SAS RAID configuration options that support a wide range of high-performance, high capacity storage solutions.
Get the flexibility you need with support for a wide range of internal HDD/ODD and external SATA devices.
Complete peace of mind.
With ISV-certifications and 115,000 hours of testing in the HP Total Test Process, the HP Z420 is reliable and ready for business.
HP workstations offer low-halogen[8] and ENERGY STAR® qualified configurations featuring efficient power supplies.
HP Performance Advisor[9] configures your system with updated settings and drivers to help maximize performance.
Relax with a standard, 3-year limited warranty. Choose optional HP Care Pack Services[10] to extend your service.
[1] Optional features sold separately or as add on features.
[2] Multi-Core is designed to improve performance of certain software products. Not all customers or software applications will necessarily benefit from use of this technology. 64-bit computing on Intel® architecture requires a computer system with a processor, chipset, BIOS, operating system, device drivers, and applications enabled for Intel® 64 architecture. Processors will not operate (including 32-bit operation) without an Intel® 64 architecture-enabled BIOS. Performance will vary depending on your hardware and software configurations.
[3] Up to 86% increase in available memory bandwidth can be achieved on the Z420 over the Z400 on optimized configurations with memory distributed across all channels using 1,333 MHz memory speed on the Z400 and 1,866 MHz memory speed on the Z420. This does not imply an 86% increase in performance.
[4] Maximum memory capacities assume Windows 64-bit operating systems or Linux. With Windows 32-bit operating systems, memory above 3 GB may not all be available due to system resource requirements.
[5] Thunderbolt is new technology. Thunderbolt cable and Thunderbolt device (sold separately) must be compatible with Windows. To determine whether your device is Thunderbolt Certified for Windows, see https://thunderbolttechnology.net/products. Thunderbolt™ 2.0 is planned to be available via an optional add-in card in early 2014.
[6] HP Remote Graphics Software requires Windows and an internet connection.
[7] Support for external displays as a standard feature through integrated processor-based graphics is dependent upon the particular workstation configuration; the actual number of displays supported will vary. An optional graphics solution will be required for the support of additional displays. Additional cables required. HD (high-definition) content required to view HD images.
[8] External power supplies, power cords, cables and peripherals are not Low Halogen. Service parts obtained after purchase may not be Low Halogen.
[9] HP Performance Advisor requires Windows and an internet connection.
[10] HP Care Pack services are sold separately. Service levels and response times for HP Care Pack Services may vary depending on your geographic location. Service starts from date of hardware purchase. Restrictions and limitations apply. See www.hp.com/go/cpc for details.
Chipset: Intel® C602
Form factor: Convertible Minitower
Memory slots: 8 DIMM
Internal drive bays: Three 3.5"
External drive bays: Three 5.25"
Storage controller: Integrated SATA 6.0 Gb/s; Integrated SATA 3.0 Gb/s; LSI 9217-4i4e 8-port SAS 6.0 Gb/s RAID (optional); LSI MegaRAID® 9270-8i SAS 6.0 Gb/s ROC RAID Card and iBBU09 Battery Backup Unit (optional)
Audio: Integrated High Definition Realtek ALC262 Audio; Creative Recon3D PCIe Audio Card (optional); HP Thin USB Powered Speakers (optional)
Energy efficiency: ENERGY STAR® qualified configurations available
Power: 600 W 90% efficient, wide-ranging, active PFC; 400 W 90% efficient, wide-ranging, active PFC
Security management: Padlock Support (standard - padlock optional); Cable Lock Support (standard - cable optional); Universal Chassis Clamp Lock (optional); Serial, Parallel, USB, Audio, Network Enable/Disable (standard); Removable Media Write/Boot Control (standard); Power-On Password (standard); Setup Password(standard); Solenoid Lock and Hood Sensor (optional)
Warranty: Protected by HP Services, including a limited 3 years parts, 3 years labor, and 3 years onsite service (3/3/3) standard warranty. Certain restrictions and exclusions apply.